52 Godly Men : Men of Today Teaching the Men of Tomorrow » My Journey » Week 23: A Penny Saved is a Penny Earned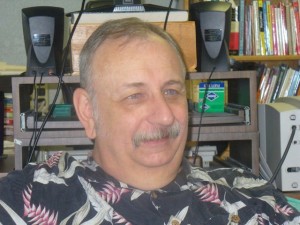 They say that a fool and his money are easily parted. Through experience, I have found this to be quite true. Even though most people wouldn't consider themselves "fools", they do fail to do certain things that would save them money, and soon find themselves separated from their wages. So you may ask; how does one avoid playing the part of the fool? Well, that just happens to be what I learned today, when I met with Gary Foreman; owner of the Dollar Stretcher, and a frugal and money-wise man himself.
Dad and I started for Dr. Gary's office at eight in the morning, and when we got there, Dad introduced me to Gary. Expecting–after seeing his extensive website–a formally dressed man in a suit (I was a bit embarrassed being in shorts and a T-Shirt), you can imagine my surprise and delight when my eyes beheld Dr. Gary, clad in some old shorts, a button-down, and walking barefooted. He told me that his workplace is an informal place, and laughingly said that he went formal with the button-down shirt. After checking out his office, I immediately knew that I would like this man. For one, a couple of old model cars lay around the room (he later said, "Oh, I have that one in my garage), and a Samurai sword sat on a side table. For another, it was obvious that he possessed a great sense of humor. My presumption proved correct. Other than the fact that he was a Chicago Cubs fan (cringe, groan, shriek), we got along perfectly.
He began by asking me what sports teams I liked, what grade I was in, what hobbies I had, etc. Then he asked if I had any questions for him. Oh, yeah. I started off by asking him how he finds all of these ways of saving money. He said that most of the ideas actually come to him, usually from readers. Next, I asked him how he began the Dollar Stretcher. He replied that he started out as a stock broker salesman, but he just wasn't very good at it. He then took a job scheduling and buying parts for a computer company. Since his whole job revolved around saving money and trying to find the best deal, he very smoothly slid into the Dollar Stretcher idea. He said that he originally intended to sell syndicated columns, but he didn't realize how hard it was to even get in the door, and it ended up not working out. My next question was whether there was ever a time in Gary's life when he wasn't living frugally. He surprised me by saying that no, there wasn't. However, if he and his wife have been saving money, he does sometimes take a few liberties. For example, if they saved $30 that month by, say, unplugging their TV, then Gary will go out and buy new floor mats for his '65 Chevy. Is it the best buy? Maybe not. Is it the best way to spend the money? Maybe not. Could they find something else to buy with the $30? Probably. But because they are living frugally, they can afford to do a few un-frugal things.
The next query I posed to Gary was, if he was thirteen again, and knew then what he knows now about saving money, what he would do differently. After thinking for a minute, he told me that one thing he would definitely change would be to do a better job of goal-setting and planning. He said that the reason people don't fulfill their goals is because they don't set goals. I then asked him a question that had been on my mind: whether it is right/prudent to buy an item that you don't don't need (a) on a whim, and (b) after deliberation. Gary said that number one, it is very important to be able to recognize the difference between a need and a want. Number two, it all comes back to living a frugal lifestyle. He believes that it's alright to buy things that you don't need after thinking about it. However, Gary said that he strongly discourages buying on a whim, because almost every single time, you will end up regretting it. If you truly want it today, you'll truly want it tomorrow.
When my stock of questions had been exhausted, we drove to Starbucks and talked some more. This time, though, Gary was the one doing the talking. He had written down some stuff that he wanted to tell me, and he had some really good points. The first thing he told me was to never get mad and do crazy things over money. After all; it's God's stuff anyway, not yours. The next thing he said was that he doesn't believe Christians should play the lottery. This isn't a slam on those of you who do play, but that's what he believes. He backed it up by saying that a lot of people say, "Well, if I win, that's God's way of blessing me." But Gary countered with a great quote: "He's God! If he want's to bless you, he'll bless you. He doesn't need a lottery to do it." And then to push his point, he told me a story about some friends of his. They were fine Christians, and they never played any kind of lottery or gambling games. Now the husband was away a lot, and in the middle of one of his trips the wife got a call from a casino in another country, saying, "Congratulations; you've just won eleven hundred dollars!" The wife tried to make them understand that it was a mistake, and that they didn't even do casinos. But the other end of the line insisted that theirs was the address which had won the money. It turned out that someone had come across their credit card number, and had used it to play the casino. If they lost, it wasn't charged to them. But if they won, they would try to change the address and have the money sent to them. However, they hadn't been able to switch the address soon enough, and the Christian couple got an extra $1100. So if God thinks you need to be blessed, you're going to be blessed.
Another thing he talked about was how most people make the mistake of thinking that credit equals money. They'll buy something with credit, not knowing that they will have to pay money for it at the end of the month. And so when the next month comes around, they're completely buried in debt. The last thing he said (albeit not about money) was that there is no such thing as being in the wrong place at the wrong time. For example, a person gets arrested for getting into a fight in a bar. "They weren't to blame, they were just in the wrong place at the wrong time." What was the person doing in the bar to begin with? They simply made a bad decision and had to pay for it.
When we had finished talking, dad and Gary's wife, Mary Kate, joined us and we went to lunch. It was a delightful affair, and the food was terrific. When everyone had finished, we said goodbye and parted ways. I left feeling smarter, wiser, and less likely to play the part of the fool in the future. And I had proved, without a shadow of a doubt, that a Braves fan and a Cubs fan could get along. And that is even more amazing than all the money-saving tricks in the world.
Filed under: My Journey