52 Godly Men : Men of Today Teaching the Men of Tomorrow » My Journey » Week 22: Hello Tonight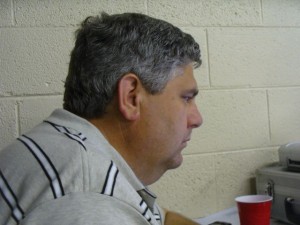 There is only one word to describe what happened yesterday; INCREDIBLE! You may ask, what did I do that was so amazing? I'll tell you. I spent the day with Alan Knowles, President of Dove Ministries International, otherwise known as DMI. That may not seem "incredible" in and of itself, but there's more. Thanks to some really good timing, yesterday just happened to be the day that DMI brought Chris Tomlin and TobyMac to town during their "Hello Tonight" tour. And I got to be right in the middle of it (I'll tell you about the cable stretcher later).
As I watched him interact with some of the other people, I started to realize just how cool of a guy Alan is. For instance, when he would be talking with someone, and give an order, he wouldn't be overbearing about it. And he wouldn't stand over your shoulder to make sure it got done, either. Another thing that showed his character was when I heard one of the security guards mention that Alan is the only promoter that offers the guards food. It amazed me how kind he was in the midst of all the activity and bustle.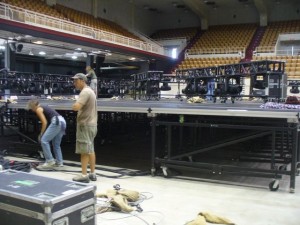 When we had gotten settled, I asked Alan about all the different divisions of work in his avenue of business. He said that there are three main groups: the venue, the tour, and the promoter. Venue is just a fancy word for the building, and in that category you have the box office, or the ticket sellers, the house staffing (people in uniforms), the union stage crew, or people that help the artists set up the sound and lights, and the catering (the food service). Later on in the day, I actually got to meet the venue manager, who is a friend of Alan's. The tour is divided into three parts: artist management, tour managers, and the production manager. The last one, promoter, also has three divisions: marketing (TV ads, radio commercials, etc.), venue (making sure the building is good to go), and tour (making sure the band is ready to go). Basically, Alan's job is to spread the word about the event, and to coordinate the venue and artist. When my question had been answered, Alan introduced me to the venue manager, Robbie.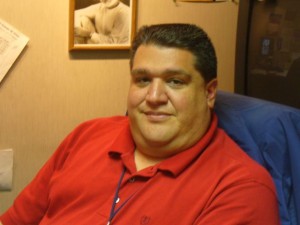 Robert Sandoval has been in the venue business since 1988. It all started when he was living in California and had season tickets to the Oakland A's. Apparently the security guards got to know him pretty well, and finally asked him if he wanted to join them, because of his size. He said yes, accepted the job, and the rest is history. His job now is basically to make sure everything's here on show day, and to assure that everything about the building is ready. One thing that I was wanting to know was how he decides which artists to bring to his venue. In answer to my question, Mr. Robbie said that he looks at three things: the artist's history, the amount of money they want, and the kind of group they are. Their history doesn't just refer to the number of tickets they sell, but also the sort of atmosphere they perform in. For instance, Robbie had a man come in that would usually sing in a barroom scene. So he put him in the ballroom, and sold 1200 tickets. Then this year, he put him in the auditorium and sold around 3000 tickets. So next year, Robbie will let him be in the coliseum, because of his history. The next reason, the amount that the band wants, is pretty simple. Obviously, if the band wants a gazillion.3 dollars, the deal won't happen. The last one, the type, just depends on where you are. If you're in the middle of the Bible Belt, like he is, you're going to bring in people like TobyMac, Chris Tomlin, Third Day, etc. However, those artists won't be top priority in California, where Robbie's from.


After I had finished talking to Robbie, there wasn't really a whole lot of stuff to do, so I just mainly ran errands for Alan. Other than getting lost around a dozen times, there wasn't much to do, and I was almost on the verge of boredom, so I finally ended up walking into the coliseum, to see what was happening. At that moment,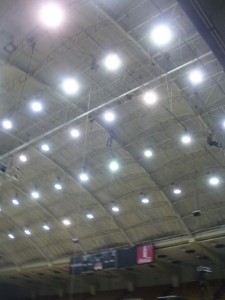 the roadies and the union crew were rigging the lights. I was suddenly no longer bored. In case you have never been in the coliseum before, the roof is about 90 feet in the air. They have to hang the lights from the ceiling. So when I walked in, there were about ten guys climbing around spiderman-style ninety feet from the ground. It was a bit crazy, to say the least. And to make it even more crazy, Robbie told me that the guys up there sweat a ton, and if you aren't careful when walking around, you might just get a big drop of sweat down your back. Ew. I'll let you know about the  cable stretcher in a moment.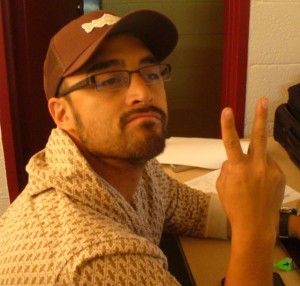 Around that time I was getting hungry, so I popped into the catering room to grab a bite to eat. (I really can't put into words how good of a job the caterers did with the meals and everything, it was so impressive.) After lunch, the next thing I did was to meet another friend of Alan's, Ryan Lampa (the brother of Rachel Lampa, the singer). He's the tour manager for TobyMac, and in his own words, he's the guy who puts all of the puzzle pieces together for the show, at least on the band's side of things. He has been in this position for 5½ years, and likes it immensely. When I asked him who he depends on to get their job done, he grinned and said, "Everyone" (he is what you would call an "executive"). But then he followed it up by telling me that everyone depends on him to administer their job.
After our chat, I walked back over to the coliseum to see how the set-up process was coming. It was coming, all right.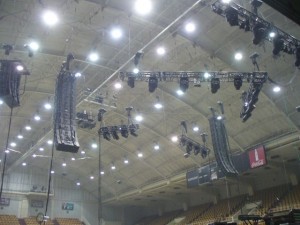 Along with starting to hang the lights up, the workers had also began to raise the speakers and the sound system up toward the ceiling as well. It was amazing how fast they were able to get the equipment ready, when they had only started that morning. By this time, Ryan was doing a sound check for Chris Tomlin, and he said he had a job for me; to run the sound board. When I asked what all the buttons and knobs stood for, he told me to figure it out myself. I figured he was just playing with me, so I asked him "what does this button do?" while reaching for one. He immediately yelled, "Don't touch that!" It was pretty funny, and I felt good about calling his bluff, but that feeling only lasted until the cable stretcher incident (which I'll tell you about it in a minute).
Around this time, Ryan introduced me to one of his friends, Mike Allen. Mike was about to eat, so he and I started to head to the catering room for dinner. We were making small talk, getting to know each other better, when I asked him "So, what do you do?" He answered, "Oh, I DJ for TobyMac." So that's who I'm eating dinner with. Could it get any better? It could, and it did. Mike then said that he had some ribs on the bus that he needed to get for part of his meal, and invited me to go along with him. Dude, sweet. It was totally cool, with sliding doors, a flatscreen TV (with ESPN, of course), a roomful of bunk beds (with televisions mounted in the beds), and apparently, a kitchen. And Mike told me  that some buses get even fancier.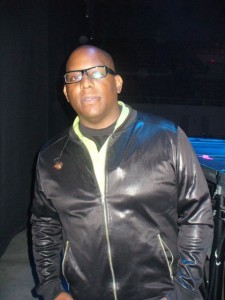 Once he had heated up the ribs, we walked back to the catering room to eat. Mike (a.k.a. DJ Maj, or Maj for short) gave me one of the ribs, and boy, was it good. While we were eating, I was able to ask Mike some questions. I started off by saying that lots of people think that all DJ's do is whirl a few records on the turntables, and I wondered what was so hard about being a DJ. Mike said that because he is in a band, not by himself, he has to find the record that matches the tune of the song. So if a song goes do-la-do, he has to find a record that goes do-la-do. It takes a long time, and it isn't easy. Also, you have to be able to blend with the rest of the group; you can't just start jamming away. But Mike said that he does enjoy his job a lot, and all the work is worth it.
After the meal, Maj and I headed back to Ryan's office, where I promptly asked Ryan for an errand to run or something (are you ready? Here comes the cable stretcher prank!). Even promptlier (don't try that one on your English teacher) Ryan told me to go find "Clint" and ask him for a cable stretcher. When I asked where "Clint" was, Ryan said to check the catering room. I asked what "Clint" looked like, but all Ryan said was that he was about 6′ 4′, skinny, and with a tattoo on his tricep. So I checked the catering room, but no Clint. I looked around, but no Clint. I asked some of the people there about him, but no…okay, you get the picture. So after five minutes of fruitless efforts, I jogged back to Ryan and told him the bad news. He immediately told me that that was unacceptable, that I should keep looking, and to go ask Joe where to find "Clint" and the elusive cable stretcher. Well, I finally found Joe, but he couldn't think of any Clint that he knew, so I kept on looking. After around ten more minutes I was on the verge of despair, when a guy named Sam caught up with me and told me the stunning news: "David, they're lying to you. There's no such thing as a cable stretcher." I'm proud to say that I didn't yell anything not worth repeating, and I didn't throw anything against the wall. I actually laughed. However, I kind of felt a bit steamed. But it was a well thought-out prank, and Ryan pulled it off perfectly. But remember: if anyone comes up to you and asks you to get a cable stretcher for them, run the other way.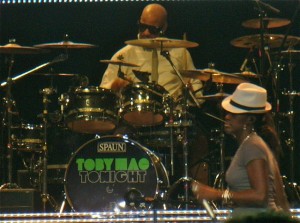 The joke took up a lot of time, and the concert started soon afterward. While I won't go into detail, I will say that Chris Tomlin's worship had hands lifted everywhere,
And TobyMac absolutely took down the house See TobyMac's "Tonight". It was a smash of a concert, and I felt proud that I had been at least a small part of pulling it off (not like I did anything essential to the concert's success, but I did help a little). It had taken a lot of people almost twelve hours to make it happen, but when the last curtain call had been sung, and the crowd was exiting with huge smiles on their faces, I knew that it had all been worth it. Even if I had to learn the hard way about a cable stretcher in the process. 😉
Filed under: My Journey