52 Godly Men : Men of Today Teaching the Men of Tomorrow » My Journey » Week 41: Bridging The Gap
In case you don't know my family, I have a younger relative who is totally enamored by heavy equipment. He loves bobcats, caterpillars, and excavators. So he probably would have flipped if he could have come along with me today, when I got the privilege of spending the day with Stephen Wright, manager of Wright Brothers Construction Company.
I started a little after nine, and after introducing myself and telling him a bit about myself, began by drilling him with questions about the inner workings of a construction company. First, I asked him why his father and brother started the company. He said that they grew up on a self-supporting farm, but when they grew older, and saw that their farm could barely take care of three families, they began the business. His uncle would go and get the customers, and his dad would take care of the other stuff. Together, they had everything it took to make a good team. Next, I wondered if doing this was something that he has always wanted to do. Steve said yes, most definitely. He was riding a bobcat since the age of four, and always loved heavy equipment. Also, I asked him if he's ever in a job situation that becomes impossible. He replied no; the company just has to buckle up and do what it takes.
Dad's note:  David was originally scheduled to meet with Robert, Stephen's father.  But a last minute scheduling conflict arose which prevented them from talking much beyond 10-15 minutes.  Stephen graciously offered to fill in and pick up where his father left off.  I really appreciate the fact that he was willing to put aside his schedule for the day to make time for David.
My next set of queries was about the bridges that he sometimes builds. What types of bridges does he construct? Well, they've spanned roads, railroads, and sometimes water, although they hardly ever do those kinds. It usually takes a few years to make one, but it depends on the structure. When companies pour concrete for bridges, they do it a section at a time, and the sections are usually about 130 feet long. This is a big undertaking, seeing as concrete weighs in at 4800 lbs. per cubic yard. When all is said and done, you end up with millions of pounds just supported by some rebar. And in case you're wondering how the builders get the big pillars that support the bridge into the water, here's the answer. If the water isn't too deep, they build kind of a metal wall around the working area, pump out the water from the inside, and then they can work without having their material get wet and ruin. If the water's too deep for that, they use barges to get them set.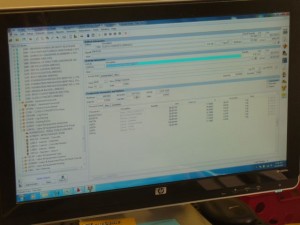 When our question-and-answer session was over, since I had been wondering how he manages to write a quote for a project as massive as a bridge, Mr. Steve took me to the place where the smart guys hang out, and let them show me. They actually use a computer program for finding out the quote, and it's pretty complicated. The computer takes everything that goes into building a bridge: rebar, labor, pipes, (of course) a ton of concrete, etc. Then, it takes the prices for all of those items, adds them together, throws in a few variables, and you have a quote. Of course, it's not as easy as I make out out to be, but you get the point.
After Stephen got me back, he introduced me to his daughter, Mary. She's a graduate of Auburn, and has been working for Wright Brothers for two years. Since it was after noon, we all went to lunch at Cracker Barrel with Steve's father Robert, and his mother. We spent about an hour for lunch, and afterwards, Mr. Stephen showed me two of the projects that he's working on right now: the new Cleveland airport and the site of the Maytag factory that they're getting ready for construction. The sites were buzzing with activity, with graders grading, excavators excavating, and bulldozers, er, bulldozing. The airport will eventually be around 5,500 feet long, and perfectly flat. But today, it was merely rolling pastures and mountains of dirt. There were big machines crawling all over the place, smoothing and moving the millions of pounds of dark earth that lay everywhere.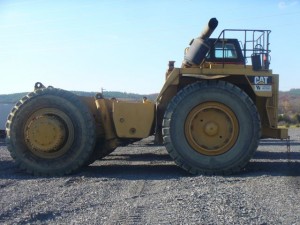 When I had seen the job sites and gotten all of the information on them that I wanted, we headed back to the office. After finishing off my passel of questions, I asked if I could take a few pictures of the heavy equipment sitting everywhere. Steve said yes, and he even allowed me to ride around in a golf cart so I didn't get tired from walking!
There were so many different pieces of equipment on the grounds, I couldn't possibly show all of them to you. There were dump trucks, excavators, bulldozers, asphalt pavers, cranes, backhoes, forklifts, scrapers, graders, crushers, and pretty much everything else that you could imagine. I took a picture of every single one. I asked Steve where they get so many vehicles, and he said that it just depends on what it is. Some they get new, some used, and some they just keep renovating and working on.
By the time I had finished my  tour, it was time for me to go. I shook hands with Mr. Steve, told him how much I had enjoyed it, and was picked up by Dad shortly after. And I did enjoy it. Upon reflection, I see now how Steve puts his high moral standards into practice. For instance, he never tolerates cheating, slacking, or stealing, and he quickly gets rid of people who do. He also only hires the people that can get the job right, even if they have more capabilities or degrees than him. I would really like to spend some more time with this man, and the construction business seems like a really great thing to do when I grow up, as well as a wonderful place to learn about life. So who knows? Maybe one day I'll be able to be a part of something like a second Eiffel Tower, or the world's biggest mall. You just never know!
Filed under: My Journey