52 Godly Men : Men of Today Teaching the Men of Tomorrow » My Journey » Week 24: A Day with Chuck

I thought that my family went to Florida to have a good time (if you're a kid) and to unload some stress (if you're a parent). That's partly true, but the main reason we came to he Sunshine State was to see the man I met with today, Chuck Germany. That shows you how much my dad thinks of Chuck as a person; and after my time with him today, I'm starting to share his viewpoint.
We arrived at their house around twelve, and the greetings came fast and furious. We hadn't seen each other since the Spring, and there were lots of things to see and do. After eating lunch, we hung out for a while, and then Chuck and I headed off. The first place we went was to the Ponce De Leon Lighthouse. Rising 175 feet into the air, containing 203 steps, and taking 1,250,000 bricks to build, the lighthouse (needless to say) strikes an imposing figure. It took us about ten minutes to climb, and when we finally reached the top, we were a bit winded.
However, the view is definitely worth the climb. You can see for miles in any direction, and there is an especially nice view of Daytona Beach. And if you're still hot after the climb, the breeze at the top cools you down almost immediately. All in all, it was a great experience, and if you're ever in Daytona, check it out.
When we had seen all there was to see from the lighthouse, we walked to Daytona Beach. But instead of going to the popular part, we headed to a different part, called Ponce Inlet. It was secluded, quiet, and beautiful. Except for the surfers, there were only about fifty people there. He took me out onto a little pier extending into the water, and showed me the view. To the left was the surfers, and the beach. To the right was a little bay, and boats and jet skiers were zipping around in the water. And straight ahead was a long pile of rocks that continued the pier for over a mile. At the end was a tower, but it was so far away that it looked to be about three inches high. Chuck said that he and a friend had walked out there before, but dad had given us a time limit together, and it would have taken too long.
After we had left the beach and headed to the car, I was able to ask Chuck a few questions, and I started by asking him how he met Barbie, his wife. He replied by saying that when they were in college, Chuck's roommate was actually dating Barbie. However, he was the kind of guy that had thirty numbers on his phone, and they weren't getting along very well. Well, to make a long story short, Barbie broke up with him, and even though she and Chuck weren't "dating", they did weave together a very good friendship, which finally ended up in marriage. Next, I asked him how he was able to make it through his teen-age years. He said that it was the grace of God that got him past that point, and nothing else. At that time, he was getting drunk, getting high, and basically not living for God. But God stuck with him, and put people in his life who changed him completely. He said that looking back, he saw that if people had a chance to minister to him, they mostly just showed kindness and love, and that was enough. That was something that I knew would stick with me, and it's a good lesson for anyone to learn.
The last question I asked was how he met my dad. He and dad have a great relationship, and I was curious as to how it came about. Well, it wasn't exactly  "normal", but one day, when Chuck was attending Lee, he was walking down Ellis Hall and heard bagpipe music. Obviously, this sparked his curiosity, because, like, nobody listens to that stuff (apologies to all Scots and likers of bagpipe music). As you probably have guessed, the person playing the music was dad, and from that day, have been the closest of friends.
When my barrage of questions had been answered, we rode back to his house. We talked a bit until my folks showed up (they were at a beach too), and then I left. Although Chuck had earlier claimed that he didn't contain any knowledge, he had shared a wealth of information that I knew would remain in my head for a very long time. And I had a blast of a time in the process.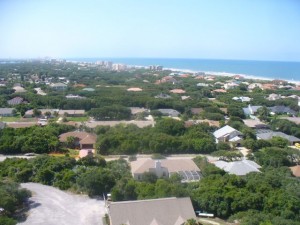 Filed under: My Journey