52 Godly Men : Men of Today Teaching the Men of Tomorrow » Featured, Weekly » Not One Member, But Many
This has been my first year playing basketball, and as a result, it is also the first year that I've really been watching the NBA. And in case you're not familiar with the NBA headlines this year, one of the biggest is the Los Angeles Lakers. To put it bluntly, they stink. Oh, they're only six games under .500, which is okay. However, there are 17 teams with better records than them, and they just can't win consistently. Now, if this were the Washington Wizards we were talking about, a 19-25 record would be pretty nice. But remember, these are the Lakers we're talking about, people. They should be one of the top teams in the league, contending for the championship. Here, I'll prove it to you.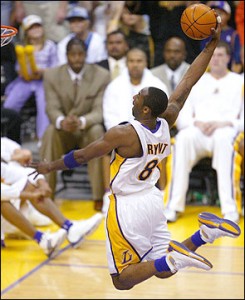 The L.A. Lakers are a team of, to use the slang, studs. Why? Two words; Kobe Bryant. Averaging 28.7 points per game (good for 3rd place, just behind Kevin Durant and Carmelo Anthony), 5.1 assists, 5 rebounds, and hitting 84% of his free throws. Steve Nash, point guard? 11.4 ppg, 8.1 assists, and hitting an astounding 97% of his free throws. How about Dwight Howard, their big guy? He collects 16.5 buckets and 12 rebounds per game, and shoots 58% from the floor. And then Pau Gasol, who grabs 8.1 rebounds, scores 12.9 points, and gets almost 1 1/2 blocks per game. Together, those four players are averaging 69.5 points per game, 27.7 rebounds, 18.4 assists, and shooting 49% from the floor (if those stats don't mean much to you, then take it from me; they are impressive, especially when they're all on one team). Here's the problem, though; they don't play together. They're just a bunch of studs that do well separately. And until they mesh together and play as one unit, even with the big names on their roster, they won't win many games, because those big names are not playing for the good of the team.
Now, this is a familiar issue, even though we sometimes don't want to acknowledge it. In the body of Christ, we all have our roles. For some, it's being the guy that preaches on Sunday and gets the limelight. For some, it's straightening chairs after service so the pastor doesn't have to. And for others, it's leading by example so that the younger believers have a role model to follow around and to copy. Some may get more "glory" than others, and be seen more by the public eye, but they all are serving in the body. As 1 Corinthians 12:12 says, "For as the body is one, and hath many members, and all the members of that one body, being many, are one body: so also is Christ."
The problem is, some of us are so used to being in the spotlight that we choose to take issue when we get shoved to the back. Let me tell you, I have been there, and it is not fun. However, when you remember that God will exalt those who humble themselves, and that you can serve the Lord wherever you are, it helps take away the sting of feeling anonymous. So, if you are in a similar situation, where you are finding yourself doing menial and insignificant tasks to help further the gospel, remember this; nothing is insignificant to God, because not even the sparrows fall without Him seeing, and you will be rewarded for anything you do in His name. And if He sees that you handle small things with a servant's heart, He will put you in charge of much. And that's something that makes it all worth it.
Filed under: Featured, Weekly · Tags: basketball, weekly article