52 Godly Men : Men of Today Teaching the Men of Tomorrow » Featured, My Journey » Week 45: Prayer Without Coffee Breaks
Prayer means different things to different people. To some, it's like making out a wish list to Santa Claus; full of wishes and desires that are totally extravagant. For others, prayer is a time to show off and prove that they're so spiritual, they can talk to God. But for the man I met with today, prayer is a time of growing closer to the one who made you, and a time to watch miracles happen. And don't think that he's just randomly bluffing, either. No, Nathan Ridgeway has experienced the power of prayer time and time again over the course of his life. And that's mostly what he talked about while we met today.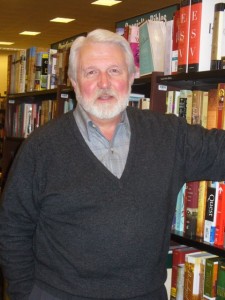 Dad left me with Nathan at the B&N bookstore, and after we grabbed something to drink, we set to talking. Nathan explained that both his father and his grandfather were pastors, and he had known that he would be one too since the age of five. He experienced the power of prayer at an early age, too. When Nathan was five year of age, his father Glyndon was holding a revival. During the service at night, he had a very painful toothache. At the close of the service, he asked his mother, Rose, if he could go up front and have the men pray for him. She said yes, and took him up front. There, his father set him up on the podium with his legs dangling, and prayed for him. Instantly, Nathan's pain went away, and that was the first time he encountered what prayer can do.
Even though we were enjoying our talk, it was time to eat, so Nathan and I met up with his son's family and some friends at a local restaurant. Nathan Ridgeway II and III looked a lot like their father and grandfather (respectively), but I guess I shouldn't be surprised. The food was delicious, and it filled us up quickly. When we had said our goodbyes to everyone, Nathan and I left. He didn't have a specific plan for our day, so we just drove around and talked some more. He took me by his very first "church" in the area; a movie theater that they would use every Sunday morning. They would get there early, set up the chairs and stuff, and be out of there by 1:00 p.m. It wasn't exactly paradisaical, but it worked well enough.
One Sunday morning Nathan told the congregation that the following Sunday would be his birthday and that he would be taking up a special offering just for him. He made it clear that because he was 46, he wanted $46,000 as a presentand that if they didn't get that much, there would be a second offering received. The congregation was okay with it, so he took it up in the middle of service. Afterwards, right as he finished his sermon, the head usher came up to him, handed him the envelope with the amount in it, and said, "we didn't get it." Nathan looked inside, and the figure written there was $81,000! At the end of service, Nathan announced the number to the congregation. He told them, "This is my money, right?" They said yes. "And so I can do anything I want with it, right?" They said yes again. "Then I'm going to make an $81,000 donation to the new church building fund which we are beginning today! "
They built a new church, and moved into it soon afterward. It was a nice building, with almost 20 acres of land. They were happy there, but soon things changed. Some people conspired against him so that they would be able to get his church.  (His denomination wanted to take ownership of the property the local church had bought and paid for.)  They had almost two years of litigation during which time they almost lost the property. However, through much prayer, they were able to win the case in court.
After years of ministry, one day in January, 2005 while Nathan was working, he heard that there were a couple of policemen at the church asking for him. He introduced himself, and when he asked if there was anything he could do for them, they asked him to come outside with them. As he did, he noticed a red car coming up to them. When it stopped, a couple of young officers in street clothes jumped out and placed him under arrest.  Then, they told him to empty his pockets and lay on the hood of the car with his hands behind his back. Nathan thought it was a joke, so he went along with it. But he started to realize that they were serious when they put him in the red car and took him off to jail. On the way there, every time Nathan tried to ask one of the officers what he was being accused of, the reply would be, "You know very well what you did!" Finally, after about ten minutes of this, the officer let him know that he was being accused of molesting a relative's child. When he arrived at the police station, he felt sure that they would be able to clear up the problem quickly and efficiently. Instead, he underwent five hours of interrogation, during which time he insisted that he was innocent, and they insisted that he was guilty. After they got done with the cross-examination, they put Nathan in a holding cell until they could find a suitable cell to keep him.
Nathan spent two days in the holding cell, all of it standing because the floor was absolutely filthy. After the two days, Nathan was informed that they had found a place for him. On his way out, a guard mentioned that he may want to be careful because some of the prisoners had been abused as children, and they might try to attack him. The guard told him that he would try to get him a cell with guys who wouldn't hurt him, and would probably end up sticking up for him. One of his cellmates was there on serious battery charges, and the other was a guy who was accused and later convicted of murder. But they treated him well, and Nathan got along with them really nicely. He also got to minister to them and tell them about Jesus.
During his time in jail, Nathan witnessed and ministered to countless numbers of prisoners.  After several days, Nathan had a bail hearing to determine whether or not he would be given bond. One of the arresting officers, who had also interrogated him, gave details in testimony that didn't match the facts of his arrest or testimony, with the intent to see that Nathan wasn't released on bail. But some people from the church and his family testified for him, and the judge set a $50,000 bond. After it was posted, a man in the congregation pledged his home for bond so that Nathan could get out of jail. Before Nathan left the prison, though, the guard in charge of his cell block called together all of the inmates out of their cells and every single one of them prayed for Nathan. That's how big his ministry was in that jail.  Finally, after 19 days of being in jail, Nathan was released on bail.  It was 2 a.m., but there were around fifty people there at the prison to welcome him and rejoice with him. At two in the morning! He said hello to them, got his clothes from the officers in the prison, and went home a tired but grateful man.
With his trial coming up, Nathan's wife Faye was busy trying to find a suitable lawyer for him. She went to a couple that she liked, but at the end of their meeting, they would say, "Well, we don't know if he's innocent or not, so we're going to investigate further." If they didn't believe he was innocent, how was the judge supposed to? She threw them out the window. But finally, Faye got the name of an attorney who dealt strictly with child abuse cases, and only did about five of them per year. He was expensive, but after Nathan talked with him, and he said that he believed Nathan was completely not guilty, they hired him.
This lawyer hired two retired FBI agents to help. One of them came with the attorney to Nathan's house to search everywhere for any evidence that could be used. They took pictures of everything, big and small, from a heater in the bathroom to Nathan's closet. They asked him to take a lie detector test, so they could make sure of his innocence, and Nathan said yes without hesitation. Afterward, the agent who had run the test came in to give Nathan his score. Now to pass the lie detector test, a person has to score a +4. Nathan scored a +11! The agent told him that he had never seen anyone answer with the consistency that he had, and there was not a single lie in the entire thing. He stated that he felt that Nathan has been set up. Soon after that, Nathan took a series of psycho-sexual tests to make sure he didn't have any inconsistencies there. After the test, a psychiatric team told him that he was absolutely 100% normal. He had no attraction to animals, children, or men, but a very strong and healthy attraction to women. (Isn't that normal for a red-blooded male?)
So Nathan had passed both of his tests with literally flying colors, but for fifteen months, he was still in limbo as he waited for results from DNA testing. They continued the investigation with no evidence against him. He had someone keeping tabs on him at all times, always accountable and always praying that God would see him through this agonizing trial.  After over a year of living that way, though, he finally got a call from his lawyer. After Nathan picked up the phone, the first thing out of the lawyer's mouth was, "Are you sitting down?" Well, Nathan thought that it was bad news, and he said no. The man told him, "You'd better sit down somewhere." When he asked why, his lawyer told him, "You've been exonerated!" They had dropped the charges because they were literally running on empty. They had no condemning evidence whatsoever.
Now, years later, Nathan said that he has fully forgiven the people who hurt him so badly. He said that the only way to be able to let go of something like that (and it wasn't an easy thing for him to do, either) is to pray without ceasing, continually bringing your requests to God.  As he related story after story of men in jail who he was able to help — or who were an encouragement to him, he said, "I wouldn't trade that experience for anything.  How can I look back at that time and doubt that God was with me?"
There's still some semblance of aftermath, though. For example: if you go to a search engine and type in "Nathan Ridgeway," there are still links related to the false accusation and its dismissal which appear. Understanding human reason, there are some people wouldn't want to bring their family to a place where the pastor has been accused of something like that. It doesn't matter if he's innocent or was lied about; the "odor" never seems to go away. One wise man once said, "It seems that God made Himself so that He can't remember, but he made people so they can't forget." So even now, four-and-a-half years later, he's still suffering because of someone else.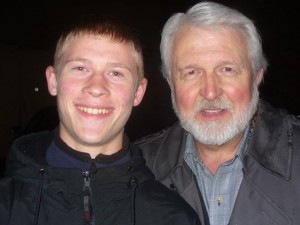 Well, after that story was finished, Nathan and I circled back to B&N and met Dad there. When we had browsed through their selection of books for about half an hour, we headed to a restaurant for dinner. We talked all during our meal, and I learned a whole lot more about Nathan's family. When our meal was over, Dad and I left and drove home. My day with Nathan had been filled with talk of powerful prayer, words of wisdom, stories of suffering, and tales of trouble. But through it all, I learned that no matter what you're going through, God is right there with you, turning your situation around for the best.
Dad's Note:  I really appreciate Nathan Ridgeway being candid and transparent with David about his life and ministry, but especially the great test he endured with regards to the false accusation.  That is one of the reasons I wanted him to be part of 52 Godly Men:  I don't know very many people who have been imprisoned due to false accusations, especially such a vicious and slanderous one as was leveled against Nathan.  Although I hope my son never has to undergo the same type of trial, it was very important for me that he meet and listen to someone who has done so and has come out the other side with a heart of love for his accuser, willing to forgive and still believing in the goodness of the Lord.  This is the kind of man who lives out his faith in the trenches.  I'm personally convinced of his innocence as are many others, and I'm delighted to count Nathan Ridgeway among the participants of 52 Godly Men.
Filed under: Featured, My Journey