52 Godly Men : Men of Today Teaching the Men of Tomorrow » My Journey » Week 31: Money Is No Object
In a large part of the world (at least the parts that I've seen), most of a person's life is governed by money. What they wear, where they work, maybe even who their friends are or who they marry are controlled by money. But today I learned that you don't have to live this way, that money doesn't have to own your life, because I met with a man who experienced that very same principle. His name is Jim Golden, and he works for Church of God World Missions (COGWM) here in Cleveland.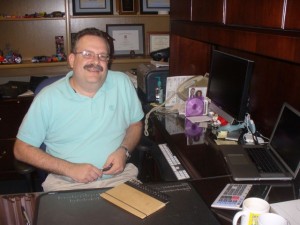 Dad dropped me off at the world missions building at ten, and left soon afterward. When Jim had asked me the usual "how have you been" questions, he gave me a tour of the building, introducing me to all the workers along the way. I don't want to say that there were a ton of people, but if a third of them hadn't been gone or sick, the tour would have taken until six. As it was, it took a good hour-and-a-half to complete. There were two things that I noticed about all of the workers though. Number one, everyone was incredibly friendly to me, and number two, all of the workers had a ton of work to do. I mean, there were piles of paper on everyone's desks, just waiting to be read and completed.
I was welcomed warmly, and all of the people I talked to were interested in what I was doing. I did get some weird comments, though, like when a woman named Lois claimed that I reminded her of Opie from the Andy Griffith show. After you read this, do me a favor and see if I look like Opie in any of my pictures. Yeah, I didn't think so. But I did meet some pretty cool people, with even cooler jobs. First, there was Yolanda Guy, or Yo, who covers all of the donations. Basically, if someone sends in a check for a missionary in the Philippines, she takes the money out of the person's bank, makes sure that the missionary gets the money, and assures that the person isn't bouncing a check or anything. Next was a woman named Sandra. Her job may not sound easy enough, but it's a very time-consuming process. First, she is the backup phone receptionist, which means that she has to be poised and ready to talk to anyone. Also, she is the data entry person, which means that she has to convert tens of thousands of documents into computer form.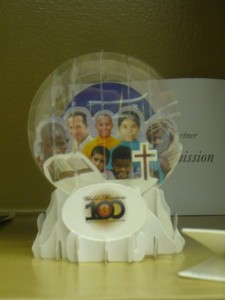 Another one of the people I talked to was a couple of guys named Justin Rose and Brandon Spell. They're two of the graphics designers at COGWM, and some really cool dudes. A graphics designer's job is, simply put, to put together all of the fliers, newsletters, brochures, magazines, articles, and anything else the company wants. Their job is more on the side of inserting all of the pictures and things, but they decide how the style is going to be, and basically how it will eventually look. Brandon said that he is technically the "biggest" designer, although the only thing "biggest" about him is the fact that he has the biggest computer.
When the tour was done, Jim took me out to eat at Quizno's Sub, and while we were there, he told me his life story. You would never guess it, but Jim dropped out of high school his senior year. He decided to become an electrician, and did that for a while, but he knew that he wouldn't want to be in that job for the rest of his life, so he quit. After that, he decided to go back to school, and enrolled at Lee University. However, Lee at that time didn't have much of a computer program, which was his big love. However, his parents soon moved the family to California, where he was able to enroll in a computer school. Soon after his graduation, he participated in a phone interview with a man on Wall Street seeing if he wanted a job up there. The day after, he was hired sight unseen and moved to New York (maybe moving across the country isn't the smartest thing to do when you've been married three months, but he did).
The pay was good at the new job, but the environment was not Christian at all, and he had to commute four hours a day. After a while, it started to wear on him, and sometimes it was so bad that he didn't even want to go church. It was definitely not a healthy environment. But when things started to get their worst, a teacher at world missions contacted him about a position at Lee as a network administrator. What a network admin does is to maintain servers, write programs, and basically take care of anything that has to do with computers.
Jim flew down for an interview about the position, but the man wouldn't hire him. Apparently, he didn't want to make any moves until the first of the year (it was December). However, he must have reconsidered, because less than two hours later, the man called back and asked if he still wanted the job. Although it was almost a third pay cut, Jim still accepted the opening, because it was an opportunity for him to renew some of his relationships. He worked there for two years, and then the job at COGWM opened up. At his new job, Jim had a chance to accept more responsibility, and also to be place in more of a ministry-oriented job. Currently, he says that he feels like this is where God wants him, and he isn't planning on going anywhere else. I told you that story to say this (and this is word-for-word to what Jim said): "Switching jobs isn't always about the money, but about where God wants you".
After the completion of the story, we drove back to the office, and finished our talk there. Since he had already told me his story, I next started in on the questions. My first was this: with some of the people in his line of work merely looking for power, how is he able to keep his heart pure day in and day out? He grinned and replied, "lots and lots of prayer."  His view is that each day he approaches his job with a servant's heart.  Next, I asked him why he decided on coming to COGWM.  He said that it was mainly because the position was open, but also it was an opportunity for him to do something for God that was bigger than what he had been doing at Lee.
Another question I posed to Jim was, knowing what he knows now, where he would take his first date. He said that a group date would be his pick, maybe going bowling. However, going to the other person's house and spending time talking is also a good idea. The last question I asked was the old standby, what his best and worst choices throughout the course of his life have been. His best have been turning his life over to Christ, because without him a person is nothing, marrying his wife (March of 2011 will make it 24 years), and picking world missions as his place of work.
When the questions stopped coming, Jim and I spent another hour talking about everything from Wall Street to which drives better, a Dodge Viper™ or a Corvette ZO6™. I'll spare you the details, but I will say that I learned a lot from Jim, and not just about the different jobs in a world missions headquarters building. No, I learned much more than that; including the principle that money doesn't always have to dictate what you do. And that was a lesson that anyone would be wise to learn.
Filed under: My Journey · Tags: choosing a career, switching jobs, world missions